It's the Season of Love and we're hoping you'll find it in your heart to help bunnies in need this Valentine's Day!
With all this LOVE in the air, we here at Bunny World Foundation are asking you to consider our Urgent Care bunnies and their medical needs. Can we count on your generous donation today to help us pay the medical bills for our bunny rescues in desperate need of medical treatment and spay & neuter surgeries? Will you help us today so we can save lives and help put an end to pet overpopulation?
Please make a donation today and help our Urgent Care bunnies!
Blizzy
Ginger
BLIZZY
was dumped in a cardboard box on the doorstep of a building in Santa Monica. His rescuers were not able to foster a rabbit and contacted BWF for help. After he was taken for a medical examination, it was discovered that he not only needed surgery, he will need further evaluation with cytology and histopathology of some lesions that were discovered in the ventral chest and testicles to rule out Cancer.
Blizzy's total URGENT MEDICAL need: $800
JAX was rescued from the middle of a Harbor City street when he ran across the path of the car that a BWF volunteer and her husband were driving. They were able to pull over and approach the bunny, capture him, and bring him safety. They discovered that Jax has a split in his nose and will need medical attention and neutering ASAP.

Jax's total URGENT MEDICAL need: $300
Jax
Jackie
LEO is suffering from vestibular disease (or "head tilt") and as a consequence of the disease his neck muscles contract which keeps the head in a tilted position. As you can imagine, this is very uncomfortable for him and contributes to loss of balance. Leo needs urgent medical testing and treatment.

Leo's URGENT MEDICAL need: $400



GINGER has a painful Corneal ulceration (an open sore on the cornea of her eye) and needs assistance with her medical expenses from treatment with antibiotics and veterinarian and ophthalmologist examinations. Can you give today to help Ginger? Ginger's URGENT MEDICAL need: $500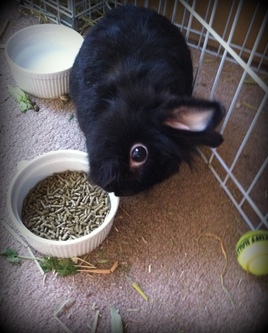 Leo
Babies soon in need of Spay/Neuter Surgeries
JACKIE is ALSO suffering from "head tilt" (caused by inner ear infection) and needs culture done to determine the most efficient treatment She needs urgent medical testing and treatment.

Jackie's URGENT MEDICAL need: $500



COCO & CHANEL were rescued from Rosecrans Park when a BWF volunteer was notified that there were some bunnies eating plastic turf at the park. Both bunnies were difficult to capture with Chanel being the most shy of them. Once captured and rescued they were named Coco & Chanel since they are remarkable beauties that are destined for greatness! Coco has very dark brown/black spots with brown eyes and Chanel is petite, shy and has dark brown spots and gorgeous blue eyes. Both girls have a small dewlap. The girls will require spay surgery, veterinarian examinations, and stool testing for Coccidia. They are both beautiful and need a forever home with a husband they can love (and preferably share)! Coco & Chanel's total need: $300
STRAYS/OWNER SURRENDER/SAN BERNARDINO SHELTER. We have pulled FIVE rabbits from San Bernardino shelter last month where the adoption fee is only $5, and rabbits are adopted unaltered to general public. This is a recipee for disaster on so many levels (pregnancy, pet overpopulation, snake snack, human dinner). We have also taken in many dumped and owner surrender bunnies, and at least 20 are in need of spay/neuter surgries. Spay/Neuter Surgeries Total Need: $2,000



Coco & Chanel

There are other ways to give to BWF and they're FREE to you! We always need loving and experienced fosters and talented volunteers to help at the BWF headquarters, our adoption events, fundraisers, and with other fun and exciting ventures. Please e-mail us for details at info@bunnyworldfoundation.org.

The simple act of searching the internet for the perfect Valentine's Day gift can mean money for Bunny World Foundation. Please join iGive, GoodSearch and GoodShop to help with a simple click!

Thank you for your support! Your tax deductible donation will make a positive difference and help save lives!

Wishing you a Happy Valentine's Day from all of us at Bunny World Foundation!
Bunny World Foundation, Inc.
A 501(c)3 Nonprofit
"Never Underestimate the Power of a Bunny!"
~Bunny World Foundation